PM: national economic development planning is key to country's future
06/16/2015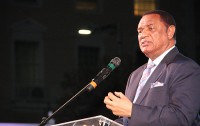 The importance of National Development Planning is vital to a country's future. The Bahamas' Prime Minister Perry G. Christie believes we should make the necessary preparations to effectively meet the challenges of the future
Addressing stakeholders at the National Development Planning Conference For Small Island States at the British Colonial Hilton on Thursday, September 26, Christie said that he was especially 'proud' and 'excited' to open the discussions to move the country forward.  
"I have indicated at a number of conferences this year, that I'm particularly comfortable speaking before people whose work has to do with moving the region forward or the country forward," said Christie. Stakeholders from a cross-section of sectors, including the College of The Bahamas, the Bahamas Chamber of Commerce, Bahamas Electricity Corporation and the Bahamas Environment, Science and Technology (BEST) Commission were among the attendees.
Christie said that he is 'always concerned when it comes to planning' as the country has traditionally not 'embraced' the concept. He pointed to the importance of having a national development plan and said that the College of The Bahamas as the University of The Bahamas would be the ideal forum to support and promote the plan.
"The great hope for the country is that the University of The Bahamas will come about in 2015. And the University of The Bahamas would be a custodian of values, of critical insight, of making those of us in public life more accountable for what we do, what we say and as importantly what we don't do and we don't say. And that a culture would develop that the academic fraternity is emboldened by our maturation and our recognition that it would provide the continuity to the right way of doing things."
He said that in order for this plan to be effective, Bahamian people must play a significant role in the development of such a plan, particularly being  'an archipelagic nation.'
Christie also stated that there have been several forces that have contributed to the lack of interest in national economic development plans, including efforts by environmentalists and media professionals who may 'distort' reality.
"And to a great extent, when we have petty-for-hire persons moving around, whether posing to be environmentalists or otherwise, speaking to national issues, the great majority of our people are being taken advantage of because they are ill-informed. The country has not put itself in a position yet to provide unfiltered public education. And because so many of us are unfamiliar with the geophysical nature of our country, we just don't know."
"We have allowed the public relations people, who define our politics for us, to diminish the significance of planning in governance. Because what has been taking its place is the macho politician that cause a distinction to the methodical planning that we need to have an integrated and coordinated approach in the running of a government.
"The preparation and implementation of a national economic development plan for The Bahamas is one of the government's initiatives to promote and secure the prosperity of the nation and its people over the next 30 years. This prosperity would be characterised by inclusive development and economic and environmental sustainability. Consultant for the National Economic Development Planning Committee, Dr. Nicholas Miles, said this is a "tremendously important initiative."
"Places that prosper, prosper for all, don't happen by chance.  For places to prosper it needs a vision, it needs a plan, it needs actions, and it needs steadfast commitment. National economic development plans express a vision for a nation, tell the world who you are, what you are about and they provide a road map to the future."
He said that national economic development plans allow a nation to collectively and effectively address a nation's challenges, be they youth, unemployment, the need for skilled higher-paying jobs or crime. They also offer the framework that allow for the construction of lives that people value."  
"National Economic Development Plans are instruments that allow us to surgically focus on what actions are needed to grasp the new opportunities – that includes agriculture, security, medical tourism, stem cell activities building census at regional excellence in financial matters, arbitration via prospecting the sound use of land and marine resources, building a green economy, IT engagements even oil finds. It's about locking yourself into the global economy on your terms. National Economic Development Plans also allow the coordination of government and community activities, providing targets and milestones."