Free National Movement receives National Development Plan Briefing, Provides Feedback and Pledges Cooperation Towards a Non-Part
09/10/2015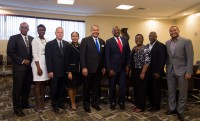 The College of The Bahamas 
The Leader of the Free National Movement, the Hon. Dr. Hubert A. Minnis, accompanied by The FNM Chairman, Senator the Hon. Michael Pintard and Senator the Hon. Carl Bethel met with the National Development Plan (NDP) Secretariat at The College of The Bahamas on 10th September, 2015 to receive a detailed briefing on the methodology and progress with the National Development Plan.  The meeting marked the second briefing to the Official Opposition by the National Development Plan Secretariat.  The meeting was arranged and hosted by President of The College of The Bahamas Dr. Rodney D. Smith.


Dr. Nicola Virgill-Rolle, Director of Economic Development and Planning at the Office of the Prime Minister reiterated the mandate of the National Development Plan Secretariat to ensure that the process is inclusive and non-partisan.  She was delighted that the Free National Movement has agreed to play an active role in the development of the National Development Plan as a core member of the Steering Committee. 
Dr. Minnis emphasized that for the National Development Plan to succeed, it must be taken out of the realm of politics on all sides.  He congratulated the Secretariat on its work and requested regular briefings on the progress of the plan.  Dr. Minnis noted, that "the National Development Plan must be non-political and inclusive, as such it is owned by The Bahamian people." Toward this end, the leader of the Opposition, Dr. Minnis, made concrete recommendations on how the Secreatariat may achieve a truly nonpartisan position. The Free National Movement team raised several critical questions and made suggestions to the Secretariat relative to the way forward.
 
President Smith noted the importance of the soon-to-be University of The Bahamas in the implementation of the National Development Plan, as The University has agreed to carefully monitor its implementation.

The National Development Plan will provide a long-term road map for the development of The Bahamas with short, medium and long term goals and strategies for achieving a more vibrant and resilient Bahamas.  The NDP process includes three phases:  a situational analysis, public consultations and the drafting of the action plan.